The dust suppression head is an accessory for our machines, it allows the user to mist an area with water lowering the levels of dust in the air. In the space of a few seconds the dust suppression head can mist an area of 2 metres wide by 5 metres deep with water, so with this machine you can cover a large area in a short space of time, perfect for construction sites.
The head on this unit is detachable for hand held application, ideal for reaching higher areas or around corners.
For clients that already have our Tornado P2 Mini-Bowser the dust suppression head can be brought individually and fitted to your current machine.
We offer this unit in petrol, electric, diesel and battery.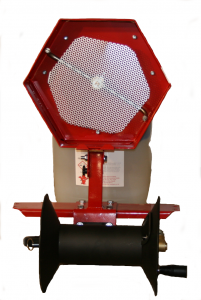 The dust suppression head has been designed for ease of use and efficiency when sanitising large outside areas covering up to 60 sq mtrs per minute.