Demon Fire Fogging Equipment
Demon International have been working with the Fire Service, National Parks, Private Estates and companies for many years offering a range of fire fogging systems for vans and ATV's. All our products are manufactured in the UK, given us the flexibility to adapt to customers requirements.
Systems include a water tank, upto 50m of high pressure hose, twin lance with the options of short lance, foaming lance or turbo lance and chemical tank for AFFF or equivalent.
Devon & Somerset Fire & Rescue
The Authority has strategic responsibility for discharging fire and rescue authority functions for the combined area with the day-to-day responsibility resting with the Chief Fire Officer.
They have fire fogging units in their Ford Rangers.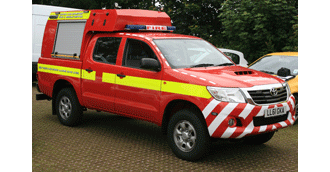 Atholl Estates is one of Scotland's best known Highland estates. Its history dates back to the 13th century but through the ages it has adapted to its time and today it manages a range of operations in the tourism, events, forestry, farming, property and country sport sectors.
This fire fogging unit was built into an Argo Cat 6 x 6 for the estate.
Dartmoor is 368 square miles (954 sq km) in area, has about 33,400 people living in it, and millions of people visit it each year. Demon have supplied two fire fogging units on 1100 litre bowsers to them.
The system comprised of a black coffin on the back of the machine which contains a centrifugal pump unit for filling the bowser from a river or other remote water source.
Highland Offroad are the Polaris dealer for Scotland and took the Demon fire fogging unit to the Highland Show and has also been demonstrated to Centre Scotland Fire Brigade.
Demon built the unit without sight of the Polaris and it fits like a glove.