The Hurricane P2 Combi LPG is powered by a genuine Honda gas engine. The benefits of the LPG range include:
Better performance at low temperatures
No fuel vapours
Lower carbon emissions
Lower noise
Reduced fuel costs
It comes complete with 9m of hose and switches between a Hurricane Pressure Washer and the Rotowash flat surface cleaner.
Sound Power Level
Pressure – 2000 PSI
Nozzle Size – 2505
Water Flow (at full pressure) – 13 Litres per minute
Engine – Honda GX200 Gas
Engine power requirement – 6.5 HP
Weight – 58 Kgs including gas bottle
L x W x H (max) 1440 x 550 x 940mm
Includes handle
High Pressure Hose Upgrades:
From 9m to 15m only an extra £37
From 9m to 30m only an extra £103
From 15m to 30m only an extra £77
The Mini Bowser LPG has a 150 litre capacity tank and is powered by a Honda GX 200 Gas engine giving 2200psi at 13 litres per minute. This very portable mini bowser provides almost 12 minutes constant washing time away from a water source.
Complete with self cleaning filtration system, chemical pickup and a hose reel as standard with 15 metres of hose.
Sound Power Level
Pressure – 2000 PSI
Nozzle Size – 25045
Water Flow (at full pressure) – 13 Litres per minute
Engine – Honda GX200 Gas
Engine power – 6.5HP
Gearbox – 2:1 reduction
Weight – 82 Kgs with gas bottle 232kg fully laden
L x W x H (max) 1170 x 660 x 870mm
Includes handle
High Pressure Hose Upgrades:
From 9m to 15m only an extra £37
From 9m to 30m only an extra £103
From 15m to 30m only an extra £77
The Hurricane P4 LPG is powered by a genuine Honda gas engine. The benefits of the LPG range include:
Better performance at low temperatures
No fuel vapours
Lower carbon emissions
Lower noise
Reduced fuel costs
Sound Power Level
Pressure – 2900 PSI
Nozzle Size – 2505
Water Flow (at full pressure) – 15 Litres per minute
It comes complete with 9m of hose.
Engine – Honda GX390 LPG
Engine power requirement – 13 HP
Weight – 44Kgs
L x W x H (max) 690 x 690 x 690mm
Includes handle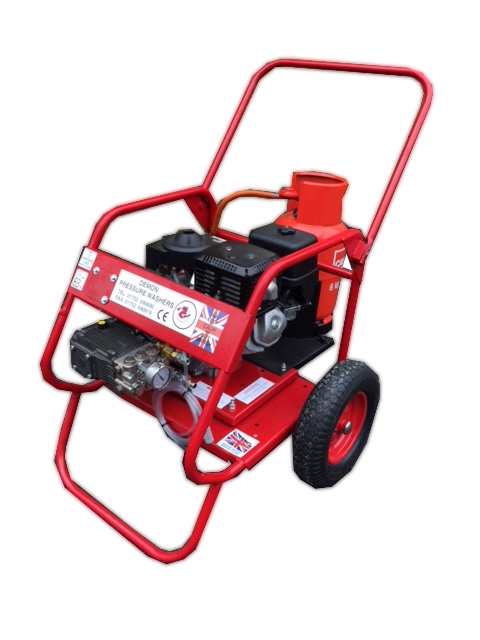 High Pressure Hose Upgrades:
From 9m to 15m only an extra £37
From 9m to 30m only an extra £103
From 15m to 30m only an extra £77